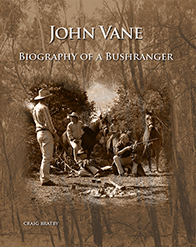 John Vane, Biography of a Bushranger 2nd edition
The much anticipated 2nd addition of Craig Bratby's book is now available.
John Vane, Biography of a Bushranger begins with the arrival of the bushranger's convict grandfather in 1803 and grandmother in 1809, exploring the challenges faced during the development of the NSW penal Colony under Governor Lachlan Macquarie.
The bushranger's parents scratched a living from the soil around Bathurst, and later Vane and his father felled timber among the isolated and rugged ranges of the Abercrombie Mountains. As an adolescent, John Vane learnt how to ride, how to shoot and how to steal; skills that served him well when, in 1863, he fell in with the most proficient and successful gang of bushrangers Australia would ever encounter.
Ben Hall, John Gilbert and John O'Meally ruled the western roads with impunity. John Vane and his best mate, Micky Burke, joined the gang in late July 1863 which coincided with some of the gang's most audacious activities. A common motivation was to administer their own brand of revenge upon the large squatters who took delight in impounding a small neighbouring farmer's stock. Although they were guilty of terrorising innocent citizens, their disdain for authority often gained them reverence among the farming classes.
John Vane was the only member of the gang of 1863 to survive. Following the death of Micky Burke in a gun battle near Rockley, Vane left the gang and surrendered to a Priest near Carcoar. The remaining members all died a violent death by the bullet; either by police or private citizen. John Vane was convicted on four counts and sentenced to fifteen years in gaol, later returning to the western district. However, trouble was never far away.
John Vane, biography of a bushranger 2nd edition is littered with previously unpublished facts, maps and photographs, while at the same time dispelling some myths and substantiating others. The John Vane story is one of adventure, loyalty, betrayal, isolation, triumph, tragedy, remorse...and a little romance.
Read the book review by Inside History magazine.