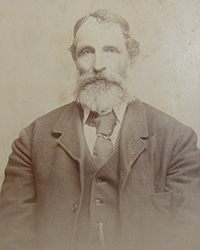 John Vane c1898
John Vane: Biography of a Bushranger
By Craig Bratby
John Vane may lack the notoriety of his fellow bushranger and 'gang-mate' Ben Hall but, as the outlaw come (almost) good, he is a fascinating historical figure in his own right. Rather than ending his bushranging stint by noose or bullet, Vane surrendered. The long, peaceful decades that followed his criminal youth render him all the more intriguing.
This deftly researched and authoritatively written biography brings to life not only Vane's complex character and riveting exploits but also, essentially, his world. Using painstaking research into people, place and interconnections, along with dozens of photographs, Bratby creates a real sense of the man and his network: Vane's convict forebears, extended family, fellow bushrangers, victims and opponents alike all emerge as three-dimensional figures. It's a family history wrapped into a community history of New South Wales' Western districts.
Rich in detail, anecdotes and interconnections, this book is an interesting snapshot of colonial Australia across several generations.
- Inside History magazine (June 2014)